Description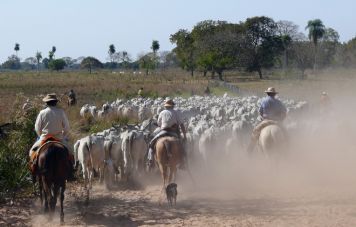 The gateway for our Pantanal Wildlife Photo Safari is Campo Grande, capital of Mato Grosso do Sul. From here we penetrate the inner Pantanal of the Nhecolândia savanna. We will be staying comfortably at a fazenda which is engaged with large scale cattle breeding activities. Because of environment protection consciousness wildlife here is abundant, though. The savanna offers sights of a great variety of mammals, reptiles and particulary birds. As a rare chance visitors will be able to watch the three biggest macaws in the area. Here, our clients will also have a unique opportunity to accompany two wildlife conservation projects for the tapir Tapirus terrestris and/or the giant armadillo Priodontes maximois.
Our guests particularly appreciate the comfortable rooms at the fazenda, the excellent cuisine und the "open bar", offering free drinks like the famous Brazilian caiprinhas, beers and fine wines from Chile and Argentina.
During the stay wildlife observations and photography is organized on the vast properties of the fazendas. Four-wheel-driven vehicles, as well as horses, are being used for locomotion. An overnight stay in the wilderness (sleeping in hammocks and/or tents) is also part of the activities.
Guest Comments
Guest Comments
Max and Irene
Zurich, Switzerland

Dear Peter
The 25 days Amazonia and Pantanal were one of the most impressive trips that we as experienced safari fans have ever experienced. The preliminary talks with you and our clearly defined wishes were very pleasant and creative right from the start, the result culminated in this adventure. Just the dimensions of Amazonia exceed our imagination, and then suddenly to find yourself in a side arm of the Rio Negro, far away from any civilization, pure nature, the voices of the birds, howler monkeys, the blowing of the pink dolphins, simply indescribable!
The crew of the IARA was kind of helpful and always focused on bringing us closer to the beauties of this still pristine nature during day and night stalking. Sloth, anaconda, various species of monkeys, caimans, fishing for piranhas yourself and then enjoying it, that's what we call pure adventure. The kitchen of Si, the cook, was very tasty and varied. Saying goodbye to the lovely people was difficult, but the highlight of our trip was still ahead of us, the sighting of the last big cat we were missing - the jaguar. Already on the first stalk from Porto Jofre, we discovered not one, no, three of the beautiful cats, a female with her two teenagers. Unbelievable, and that at distances of 5-10 meters from a safe boat. More sightings were to follow, we were able to observe a total of 9 different jaguars. But there are also countless cute giant otters, capybaras, caimans and two other anacondas. Endless birds in the idyllic narrow gullies, which always offered something new.
Then the fantastic private flight with the Cessna 206 from Campo Grande from 1h 20 over the wide Pantanal and then the landing directly in front of the Hacienda Pousada das Pedras where we were warmly welcomed by Rita, the lovable and experienced hostess. The newly built, spacious suite rooms and top bathrooms were very appealing, and the kitchen was also extremely tasty, including caipirinhas and wines. Great! Here we should discover the last "missing" animals with our guide and Rita. We were able to sneak up on 2 tapirs and 3 anteaters in Indian style against the wind and take great photos. But also armadillo, pantan fox and swamp deer paid their respects. We could watch hyacinth macaws and toucans right in front of the room from the hammock.
Then it was time to travel back to the civilization of Rio de Janeiro, where we were allowed to enjoy another 4 wonderful days, until we had 2000 photos and 90 videos in our luggage.We said:
Adeus Brazil, foi muito lindo!
Southern Cross and by that, we mean mainly Peter the owner, definitely delivered and never promised too much. The four guides who looked after and guided us all this time were top class. Both as people and as extremely experienced specialists in their field. We were able to learn a lot and take it with us from this fantastic, most biodiverse country on earth, many thanks for everything Peter.
Max und Irene
Helga and Manfred Leubner, Norbert Braunitsch
Offenberg and Munich, Germany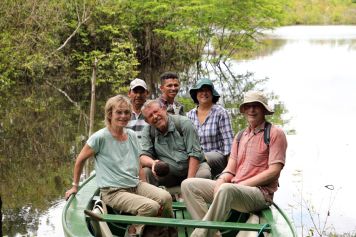 Our next destination was the northern Pantanal. We want to go on a Jaguar Safari! The drive on the Transpantaneira, an earth road with 125 wooden bridges, was like traveling through an animal or bird park. Masses of caimans cavort here at water holes, capybaras, anaconda and flocks of large water birds. We stayed overnight at a typical Ranch where we went on safari next morning before continued our journey to Porto Jofre, at the end of the Transpantaneira road.
Porto Jofre is the ideally located to watch Jaguars on the São Lorenço. Piqueri and Cuiaba rivers.
We went on the jaguar stalk by boat. It had an outboard engine and light aluminum casing for fast moving when it was necessary. During the 6 days of our stay in the region, we were able to observe several jaguars every day. We saw him prowling along the bank, hunting and fighting with a competitor. We could also watch him mating. Once he swam next to the boat. Another time he suddenly jumped into the water in front of our boat. Fortunately, he was not aiming at us, but at a caiman, which for once got away from him.
We also observed cute capybaras (the largest species of rodent) and the giant otters. On walking safaris and game drives we were able to watch anteaters, coatis, tapirs regularly and the jaguar came across our way twice.

Now we wanted to get to know the savannah landscape of the southern Pantanal. As Peter Rohmer assured us, it should be particularly easy in the relatively open area there to observe and photograph the diverse fauna of Brazil.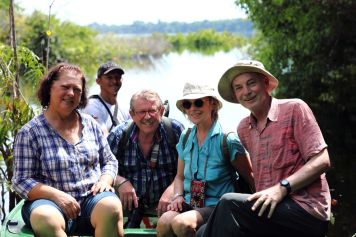 With a small, twin-engine private plane, we flew to another highlight of our trip to Brazils natural wonders. This flight over the Pantanal at low altitudes is a great experience in itself. We visited an 18,000 hectare fazenda in the Nhecolânida region.The charming, typical landscape of the southern Pantanal awaited us. Meadows, ponds, swamps, woods alternate, pure landscape. There are no streets, buildings, power lines! Nothing, just nature! We went on Photo Safari twice a day with the 4x4 Land Rover. In addition to the many mammals and reptiles, particularly were we impressed by the incredible biodiversity of the birds. There are around 600 species. Herons, ibises, railings, pink spoonbills, ducks, geese, storks, birds of prey, owls, parrots, amazons, toucans and all three great macaw species, i.e. the yellow and blue, red-winged and hyacinth macaws, were super easy to observe and photograph. A paradise not only for bird lovers who get their money's worth here.
In addition, we were able to monitor the work of 2 NGO´s working on two species protection projects, namely for the giant armadillo Priodontes maximus and the tapir Tapirus terrestris. That was extremely interesting for us.
If you want to experience the cowboys of South America, you have to come here! They take care of the approximately 12,000 cattle and 240 horses of the fazenda. We rode with them to the herds and watched them at work. The cowboys skilfully roped cattle in full gallop. Invited to join in driving the herd reminded us of our teenage days when we dreamed of riding with the cowboys of the Wild West.
In conclusion, we can say that this very special journey, justifiably offered as "The Journey of Your Life", will occupy our minds for a long time to come.
The entire organization of the trip was perfect! The boat with two cabins on the Rio Negro in the Amazon, the vehicles (cars, small aircraft) as well as the driver and guide surpassed our expectations.
Next year or the year after we want more of the same. I will get in touch with you in due time.
Our sincere thanks go to Peter Rohmer from Southern Cross Tours & Expeditions and his strong team, whose perfect planning made our individual trip so successful and which gave us a lot of pleasure.
Greetings from Manfred, Helga and Norbert
Pawel Gierycz
Warsaw, Poland
Dear Peter,
I have just come back from Brazil. The trip was wonderful and the guide in Pantanal really great. I spent a fantastic time watching whales, giant otters and jaguar too! Thank you very much.
Of course you can give my e-mail as reference to your clients - I will give the best recommendation. Now I am very busy, but I will write you more about the my trip at the end of October.
Best regards
Pawel Gierycz
Ricardo and Carry Chama
Peter,
hope you're doing well. I miss being in Brazil right now. It was one the most memorable experiences I had in a long time. Thanks for everything you've done for us. I'm finishing editing the videos. If you are interested in getting a copy, I'll send them to you when my cousin – who travels often to Rio – can get them to you.
Ricardo and Carry Chama
Deirdre Silver
New York, USA
Thanks so much for great trip. It felt like stepping back in time. So fascinating to see the cowboys work with the exotic cattle surrounded by wildlife and wide open spaces. Very interesting and different.
All the best,
Deirdre
John Rankin
Peter,
Just felt I ought to drop you a line & thank you for organising a wonderful trip for me. Nearly everything went off without a hitch & I thoroughly enjoyed myself.
The whale watching was fantastic with excellent outings both by sea & land. Lots of whales were seen, some very close & some very active jumping out of the water. The hotel was well situated on the beach (& on a couple of days there were even whales in the bay in front of us). All the staff were very friendly & welcoming. Just a shame it was low season & there weren't more other people there.
The day trip round Floripa was very interesting & Renata was a very informative guide. Unfortunately the Hotel Tamarindo was a bit of a disaster, no restaurant or bar so I had to go out for dinner & as there was nothing nearby the taxi fares cost more that the meal! (It was a superb Thai meal). The emergency breakfast was so dry & no drink provided with it meant I couldn't eat it. But this was a minor setback in the overall holiday.
The trip to N Pantanal was lovely. Marcus was a great guide, knowledgeable, hard worker, even had a sense of humour. The animals were a little shy, seeing tracks more often than the actual animals (& I missed the only cat sighted as I was having a lie in!). Again that is expected on a wildlife holiday & was more than made up for by the birds & mammals we did see, particularly the otters, a group of semi tame monkeys & a giant anteater. It was also great that Marcus & I went out spotting at night & saw a few more animals.
John Rankin