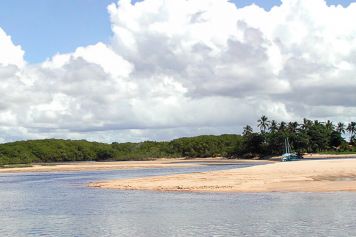 If you want to relax from all the traveling that you have just done with us, join us at this unique place of which not many people ever heard about. There, at Ponta do Corumbaú you can just swing yourself in your hammock on the terrace of your piaçaba straw covered bungalow while the steady breeze caresses your body. You will taste delicious batidas (sugarcane drinks) and fine seafood from the daily catch. Our hotel features pool with a bar, beach bar and two restaurants. Beautifully arranged gardens show tropical flowers in abundance. The property is set in a huge palm tree plantation, so that you can have coconut water for your refreshment at all times.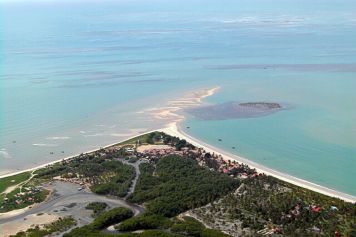 If you get tired of doing nothing, take a boat ride out to the reef for snorkelling in the crystal clear waters or pay a visit to the nearby Indian settlement of the pataxox tribe which are the first indigenous people "discovered" and "civilised" by the Portuguese explorers, when they first hit the Brazilian coast here at 1500 AD. There are also possibilities for riding and hiking on white beaches that stretch hundreds of kilometres to each side. Maybe you want to undertake a canoe excursion the nearby river or take our fast boat for a visit of friends at another enchanting beach called Espelho? There are countless things to do. The most difficult thing to do there is to make your mind up about whether you are going to do something or nothing... In case of doubts we will be giving you a hint.
We recommend:
Combine the stay at Corumbau with a visit to Salvador, the state capital, famous for its historical centre of town and Porto Seguro, the cradle of Brazil. We will be pleased to work out a program in acordiance with your expectations.
Prices and Travel Details
Travel Time
7 days / 6 nights
Travel Dates
All year round, best from October to May
detailed itinerary upon request
Prices Low Season 
(Mar 1st - Dec 15th)   
Full Activity Package
(car/boat transfer inclusive)
1,040 US$

per person

Reduced Activity Package
(car/boat transfer inclusive)
910 US$

per person

single suplement
124 US$

per person

Prices Main Season
(Dec 16th - Feb 28th)  
Full Activity Package
(car/boat transfer inclusive)
1,170 US$

per person

Reduced Activity Package
(car/boat transfer inclusive)
1,040 US$

per person

single suplement
208 US$

per person