Intro
The best and most complete natural program in Brazil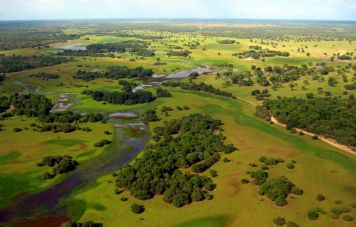 We can not compete with Africas Big 5, elephant, lion, buffalo, leopard and rhino but can put you to trail the five largest mammals of South America.
Our photo safari takes you to 3 different regions in Brazil, you will make a fascinating experience to watch our endangered Big 5 in the wild: jaguars, giant otters, tapirs, anteaters and southern right whales on one trip. Also, the capybara would be by size and weight an appropriate candidate for our list of Big 5 These rodents however, are quite common on our tours, so that they are not special anymore. The same applies to the Cayman.
Our Big 5 Photo Safari includes the northern Pantanal wetlands, in the Federal State of Mato Grosso, with the airport of Cuiabá, Varzea Grande being the gateway. A jeep ride down the adventurous dirt road Transpantaneira brings us to Porto Jofre, located between the rivers Cuiabá, São Francisco and Piqueri. This is the home not only of the jaguar Felis onca.
From here we fly to Campo Grande, where a different Pantanal environment called Nhevolândia savanna awaits us offering sights of a great variety of mammals, reptiles and particulary birds. Here, our clients will have a unique opportunity to accompany wildlife conservation projects for the tapir Tapirus terrestris and/or the giant armadillo Priodontes maximois.
Our guests particularly appreciate the comfortable rooms at the fazenda, the excellent cuisine und the "open bar", offering free drinks like the famous Brazilian caiprinhas, beers and fine wines from Chile and Argentina.
Furthermore we have included the state of Santa Catarina in Southern Brazil where we have set up meetings with the southern right whales during July through October.You will be comfortably staying at one of the most beautiful beaches in Brasil called Praia do Rosa. It is located just one hour from Florianopolis airport.