Southern Cross Tours offers Farms and ranch stays for riders and non-riders. Our trail riding guests may either want to stay after a trail ride a few more days with their host, or just want to spend some time on the Brazilian countryside, enjoying the rural lifestyle away from the hassle in the big cities. Our farm stays involve the same fazendas that we use for our riding trails.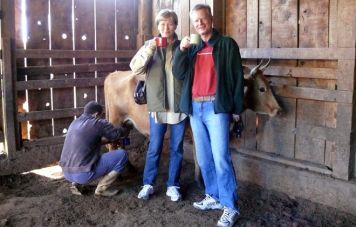 Visitors can always give a hand with the day to day work of the gaúchos or peões (cowboys), riding out with them, trail or treat cattle and sharing new experiences in an natural and environment of great beauty. Those who do not ride have a great selection of hiking possibilities at hand. They can take on the cattle trails or some of the few dirt roads or maybe they would prefer to hike straight across the land. If you are into fishing: the nearby river offers great fishing opportunities of mountain trout that can reach 4 kg! The food at the fazenda is regional, superb und very tasty. In direct touch with owners and hands alike, guest will share personal experiences that are impossible to make elsewhere. Cultural differences are not a handicap but a highlight.
The impressive mountain panorama of the Southern Brazilian high sierra, with 1 national and 2 state parks offers a variety of superb natural attractions. Visitors enjoy the hilly and open grass-, bush-, and woodlands, the lush patches of magnificent South American araucária pine forest, countless rapids and clear rivers cut lovely green valleys before they cascade down the canyons of the Serra Geral Mountain Range.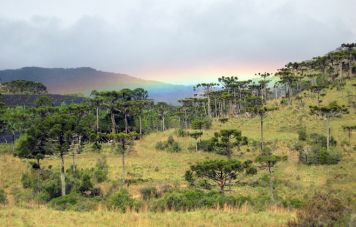 The Fazenda Santa Barbara is located in the Jararaca region. The owners and friends are Elvio and Rosi Antunes des Souza. About 400 cattle graze on 1,500 acres of land. The Fazenda Santa Barbara is, as all the other Ranches in the region, a small Ranch compared to Central Brazil or the Pantanal wetlands. It is family run and non touristy. Guests are treated like friends and have the rare opportunity to participate in the day to day live of a traditional southern Brazilian mountain ranch. Guests who stay at the Santa Barbara ranch will ride out every day with the gauchos to tend, round-up or trail cattle, or just undertake a fun-ride to neighboring ranches for a chat. And if they do not ride at all, they certainly will enjoy the hiking here as it is great fun, mainly because of the many contrasts in the landscape. They may also have a hike to visit other fazendas in the vicinity. There are not limits to the options.
The accommodations at Santa Barbara ranch are rustic, clean and cozy, exactly as one would expect as being the case on a mountain ranch. The regional food, skillfully prepared by Rosi is variable, comes in generous portions and is absolutely delicious.
Prices and Travel Details
| | |
| --- | --- |
| Travel Time | minimum 1 week |
| Best Travel Time | October to May |
| Prices | 1 week stay / prices per person in double room |
| 1 person | 1,720 US$ |
| 2 persons | 1,560 US$ |
| 3 persons | 1,500 US$ |
| more than a week | add-on 165 US$ /day |
We recommend arrival/departure on Sundays for a week stay. It is possible however to arrive, stay and depart at any date of your convenience.

Rates Include:
4 meals /day, refreshments
No add-ons for high season or other local charges. No extra charge for single rooms. Early reservation highly recommended.