Itinerary Day 1-4
Included highlights:
Colonial gem Paraty, an authentic insight in Brazil's colonial past
Island to island paddling
Swimming, snorkeling and picnic on dream beaches
Saco de Mamanguá, the only fjord on Brazil's coast line
Stay with traditional caiçara fishermen communities
Encounters with native Guaraní Mbya populations
Hiking through the Atlantic Coastal Rainforest
And much more...
The 8-Days Itinerary
Day 1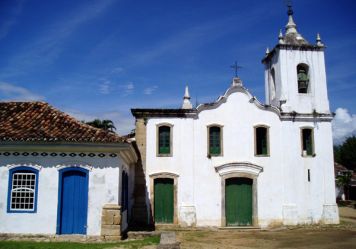 Early departure to the small seaport town of Paraty, that during the 18th century played an important role when gold from the mines in Minas Gerais was shipped out from here to homeland Portugal. Today it counts according to UNESCO to one of the most harmonic existing examples of colonial architecture world-wide! Here you experience an exotic mixture of culture, nature, beach pleasure and activity holidays. The about 4 hours scenic drive along the coast features great views on islands and little hidden beaches of overwhelming natural beauty. A charming Pousada, located in the historic center of the village, awaits you for check-in and a refreshing jump into the swimming pool. In the afternoon we will tour the village, including port and historical downtown area with mansions and churches from the colonial epoch. The evening starts with a walk through the old and narrow cobble stone alleys, which were still built by slaves and are romantically lit by colonial candelabras. Dinner will be at one of the good down town restaurants, offering always seafood delicacies from the days catch. A stroll through Paraty's boutiques of pretty handicraft and Brazilian styled leisure clothing is followed by a night cap and some great Brazilian life music will end the day.
Day 2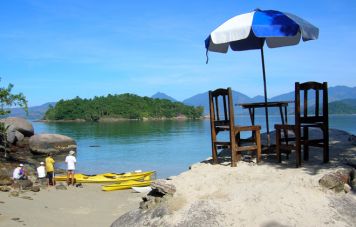 This first day of our kayak tour start with an introduction into paddle techniques and safety. The route will takes us through the calm waters of the bay of Paraty to the islands of Malvão, Sapeca and Comprida, where we stop for a swim at beaches which seem to belong just to us alone – picnic. Another hour of paddling alongside the Araújo Island, we arrive at a fishermen community, here called caiçaras. We will be arriving there in time for lunch when we appreciate a local specialty of fish and seafood. The afternoon is due for relax, swimming, and making acquaintances with the locals. Dinner and overnight is at the community. To acclimatize on this first day the overall paddling time will not exceed 3 hours.
Day 3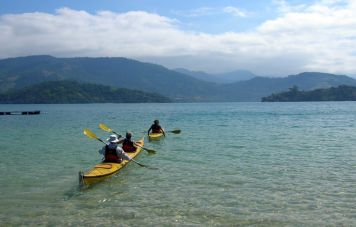 After breakfast boarding of the kayaks for a approximately 2 hour ride through the bay of Paraty, having chosen the beautiful beaches of Jumurim, Engenho and Vermelho for destination. There is polenty of time for a refreshing swim in the crystal clear waters around the islands. Lunch, at Praia Vermelho is served by fishermen. Outfitted with new energies, we proceed now to one of the most beautiful beaches of the region at Ponta Grossa. Estimated paddling time 1½-2 hr. Here, we have dinner and overnight in one of the fishermen's huts.
Day 4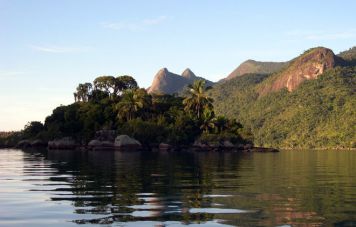 This morning we paddle to Saco da Velha, another one of these dream beaches with nobody on it, but us. The turquoise and calm sea are irresistible and everybody will enjoy swimming and diving here, before we continue our journey to the only fjord in Brazil at Saco do Mamanguá. This tropical paradise and its local communities are being protected by our partners from Interação Ambiental, where we take quarters. The view from the deck of the guesthouse offers a splendid view over the 8 km long fjord, surrounded by lush Atlantic coastal rainforest. Information und "round table" discussion on the subject about Protection of the traditional life style of the local communities against real estate speculation, presented by Paulo Nogara, our partner at Interação Ambiental.