Itinerary
An Insight Tour of 4 Days with Highlights:
Colonial seaport Paraty
Dream beaches nearby
Coffee plantations and colonial fazendas
Due to many requests, we extended the program to 6 days. Please contact us to get further details.
Day 1, Wednesday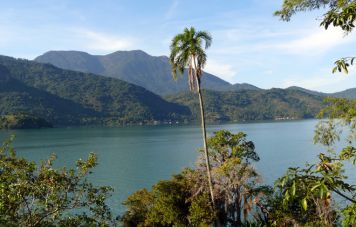 Early pick-up at your Hotel and drive in northerly direction along the shoreline of the Green Coast, to the colonial town of Paraty, an 18th century seaport that played an important role during that period when gold from the mines in Minas Gerais was shipped out from here to homeland Portugal, at that time an important colonial power that reigned Brazil during 4 centuries. The colonial gem is one of the most harmonic architectural ensembles in Brazil and has been named World Heritage by UNESCO. The about 4 hours scenic drive along the coast features great views on islands and little hidden beaches of overwhelming natural beauty. A charming pousada, located in the historic center of the town, awaits you for check-in and a refreshing jump into the swimming pool.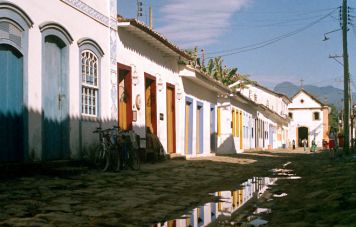 You are now to board our schooner for a boat ride between islands and beaches off Paraty. The boat will stop at one of the beautiful beaches where you may enjoy a swim in the crystal clear waters or stroll about the island and marvel of all the lush tropical vegetation around you. In the meantime a picnic is set up and you are invited to join in. Return to Paraty late afternoon. The evening starts with a walk through the narrow cobble stone alleys romantically lit by colonial candelabras. The boutiques display a wide array of beautiful handicraft and Brazilian styled leisure clothing. Dinner is at a seafood specialty restaurants owned by friends.
Day 2, Thursday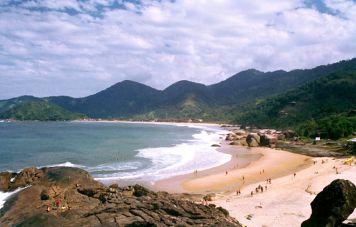 After breakfast we will pay a visit to a nearby settlement of the Guaraní Indian tribe. Discussions with the Chief and members of the council normally proof very interesting and informative and will certainly contribute to enrich the Paraty experience. We recommend a contribution by purchasing their lovely handicraft made from natural fibers and wood. From here it will take a short drive through the Atlantic coastal mountains to get to the dream beach of Trindade. Sitting under a shadowy wild almond tree, right there at the beach and with a special batida poured by Carlos, right on your lips, you may wonder about all the hassle back home or elsewhere in the world. Heading back to Paraty in the afternoon not before paying a visit to one of the notorious sugar cane mills that produce fine cachaça, the Brazilian national drink! Our guide will take care however that the visit would not take too long, since a walk about the little town of Paraty is still on the list today. There you will marvel at colonial mansions and churches that date back to the early 18th century and at elaborated architectural style of that time, contrasting sharply with modern edifications, fortunately not dominating in Paraty.
Day 3, Friday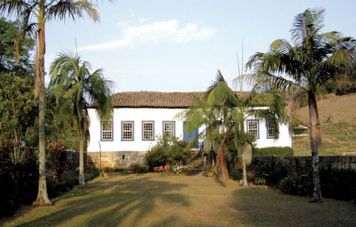 Departure today is early, since we will drive up into the coastal mountains where we will visit more gems of the Brazilian colonial period. At Barra do Piraí we are greeted by Sr. João and his wife Ana, owners of Fazenda Taquara. The region of Paraíba valley had its prime time late in the 19th century when coffee was grown on the hills by efficiently using slave labor. After slavery was abolished in 1888, growing coffee on the rugged terrain was not longer possible, without employment of labor, which proofed now to be too expensive. The decay of the region began. Some of the luxury displayed by the coffee barons, as they were called in the old times, can still be seen at the beautifully restored properties that we are about to visit.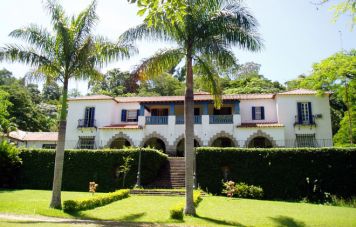 First Sr. João and Ana show us around on the 18th century property, most probably the only one that still produces (organic-) coffee. After visit the plantation we have lunch in the old cellar of the main house, which use to be the sleeping room of the slaves. Getting on soon we will arrive at the nearby Fazenda Ponte Alta, an outstanding colonial edification where the group will stay overnight in adequate surroundings. There will also be a dinner served by waiters and waitresses dressed in original clothing of the colonial period.
Day 4, Saturday
After breakfast the group visits the slaves museum of the fazenda, and gets to know the history of the property that dates back to the late 18th Century. We suggest now a walk on the large property that includes reminiscents of the Atlantic coastal rainforest that once covered 15 % of the Brazilian territory, now reduced to a mere 1 %. You may as well take a horse and have a ride or just enjoy the pool. After lunch however we will leave the past when we are heading for Rio de Janeiro. The tour ends either at your Hotel or at the airport for departure to a new destinations or back home.
Guest Comments
Guest Comments
Mylène und Dédé
Lyon, France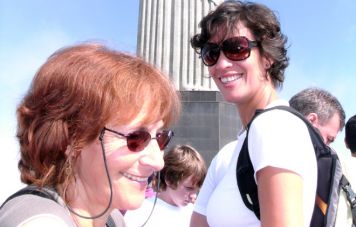 Hi Solange,
after a long journey we have finally arrived at home in Lyon. Muito obrigado, muito obrigada, for your amiability, your smile, your culture and your competence. Please find attached the photos you asked for.
Kindly
Mylène and Dédé
Anita and Joe Arminger
Linz, Austria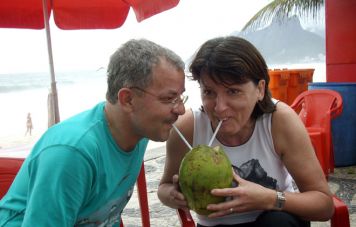 Urlaub bei Freunden
Dear Peter! Dear Annette!
Discover Rio! We have experienced the most pleasant way to discover Rio de Janeiro. It simply could not have been more beautiful and better organized.
Anita and I recommend everybody: Make your booking arrangements with Southern Cross Tours and you will enjoy your holidays from the first to the last minute.
Thanks for the wonderful days and hours!
Kind regards
Arminger Anita and Joe
PS: The postcards arrived now, after 4 weeks!
Andreas Müller
Germany
Hello Peter, hello Annette,
I would like to thank again from my heart for the outstanding way of taking care of us in Rio de Janeiro. This idea to book our rooms with you, in one of those charming Villas of the Santa Teresa quarter, instead of staying in one of the many tourist hotels in Rio de Janeiro, payd full off. The rooms were classy, the villa has charm of its own. the breakfast on the terrace beats any hotel breakfast hands down. Santa Tereza and Lapa neighborhoods are very authentic old charm Rio de Janeiro. We effectively had only 3 full days time for seightseeing, which is far to less, but Annette managed to show us the city in an way that we actually became to love Rio de Janeiro. The tourist attractions Corcovado mountain with Christ Redeemer, the Sugar Loaf, the beaches of Copacabana and Ipanema obvioulsy, are a must, but we also hiked through lush patches of Atlantic Coastal Rainforest, strolled through the famous Botanical Gardens, went to a soccer game in the not less famous Maracanã Stadium, an unique experience, and even were taken to a rehearsal at the Sambadrome. There were not the splendorous parade waggons but there were the locals instead who gave the event an extremly authentic aspect, which you dont find at the presentations made up for the tourists.
I would like to highlight the evenings and the discussions on your terrace. Through those intens discussions and your way of looking at things we have learned more about Brazil as we woud ever have with any other travel organization. Even for me, and I consider myself of knowing Brazil very well, there was a lot to listen, too, and to learn.
For all this I recommend everybody, also small groups as ours, if you go to Rio book with Peter Rohmer.
With best wishes
Andreas Müller
Ricardo Chama
Yakima, Washington, USA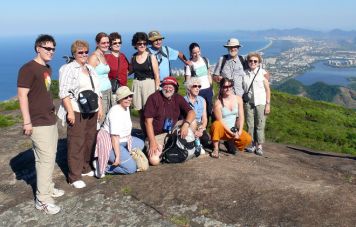 Dear Annette and Peter,
Everybody is back and safe. The trip was one of our greatest experiences. Judy Kjellman has sent an e-mail to some at the college where we teach to express how wonderful the trip was. Others have expressed the same feeling to friends in the town where we live. People I don't know, have come to me to tell me how come they didn't know about the trip.
Brazilian People and German people turned into Brazilean folks are wonderful... so it made our experience much more enjoyable.
Ricardo Chama
Sabine Czerner, Beatrice and Jules Nussbaumer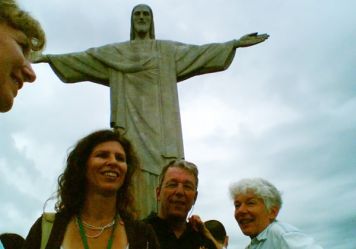 Dear Peter, dear Annette,
We would like to let you know that, thanks to your competent, good humored and flexible ways, we had a wonderful time in Rio.
We were overwhelmed with the world famous tourist attractions, but what really made the difference were these insider places, like when we had dinner together in that charming little restaurant after the adventurous tram ride to Santa Teresa. Also your driving abilities in the chaotic Rio traffic were quite remarkable. This way we got a very lively impression of the city.
It is really pleasant to know that you can count on your guides and in having enjoyed your company, we did feel very comfortable at all times.
Thanks a lot for the time with you - we can really recommend you.
Warm greetings from Switzerland
Sabine Czerner, Beatrice + Jules Nussbaumer
Bärbel and Karl Graf
Dear Annette, dear Peter,
we want to thank you again for your care taking and efforts before and during our stay in Brazil, particularly for you patience with tourists that griped about the weather etc. You showed us once more so much and the best of this gorgeous world on the other side of the ocean, [...]. Therefore we thank you by heart.
With warm greetings from a wintry Switzerland, also to Benny,
Bärbel and Carlos
Sonja and Ulrich Geppert
My best Peter,
You and your small team managed to plan and to execute a sophisticated and demanding travel program. Now we have an idea of Brazil, its people, its history and culture. Everything was interesting for us: Rio, Paraty, the Fazendas and, particularly impressive, David Miller and Bel his great wife. During a possible next trip we still would like to get to know more of Brazil together with you.
Our best greetings go also to Annette and Benjamin.
The mouse & U.R.M.E.
Christina and Friedrich Stockinger
Hello Peter,
One more time many thanks for your and Annette's care in and around Rio. It was simply perfect. We enjoyed every second. Not only the excursions itself, but also and in particular, your company was what made the tour different. You both are extraordinarily good 'guias'!
Greetings and love also to Annette,
Christina Stockinger
Prices & Travel Details
Prices and Travel Details
Travel Time
6 days / 5 nights
Group Size
minimum 4, maximum 8 participants
Travel Dates
the whole year, exept September
Prices
overnight in double room occupancy
as from 1,680 US$

per person

single suplement
440 US$

per person
Included:
3 ×

overnight in Paraty with breakfast included

1 ×

overnight at Fazenda Ponte Alta with breakfast

1 ×

overnight at Fazenda Florença
1 Lunch at Fazenda Taquara
1 Dinner, 1 Lunch at Fazenda Ponte Alta
English speaking driver / guide
Schooner ride in Paraty
Transport in private car
Add-ons:
5 days rainforest adventure in the Amazon (on request)
5 days cultural melting pot in Salvador da Bahia (on request)
8 days riding holidays or farm stays in Southern Brazil or the Pantanal