Description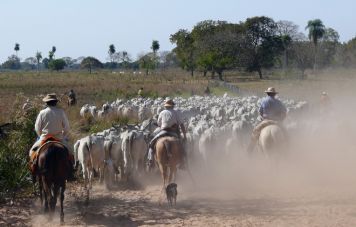 The gateway for our Pantanal Wildlife Photo Safari is Campo Grande, capital of Mato Grosso do Sul. From here we penetrate the inner Pantanal of the Nhecolândia savanna. We will be staying comfortably at a fazenda which is engaged with large scale cattle breeding activities. Because of environment protection consciousness wildlife here is abundant, though. The savanna offers sights of a great variety of mammals, reptiles and particulary birds. As a rare chance visitors will be able to watch the three biggest macaws in the area. Here, our clients will also have a unique opportunity to accompany two wildlife conservation projects for the tapir Tapirus terrestris and/or the giant armadillo Priodontes maximois.
Our guests particularly appreciate the comfortable rooms at the fazenda, the excellent cuisine und the "open bar", offering free drinks like the famous Brazilian caiprinhas, beers and fine wines from Chile and Argentina.
During the stay wildlife observations and photography is organized on the vast properties of the fazendas. Four-wheel-driven vehicles, as well as horses, are being used for locomotion. An overnight stay in the wilderness (sleeping in hammocks and/or tents) is also part of the activities.
Guest Comments
Guest Comments
Pawel Gierycz
Warsaw, Poland
Dear Peter,
I have just come back from Brazil. The trip was wonderful and the guide in Pantanal really great. I spent a fantastic time watching whales, giant otters and jaguar too! Thank you very much.
Of course you can give my e-mail as reference to your clients - I will give the best recommendation. Now I am very busy, but I will write you more about the my trip at the end of October.
Best regards
Pawel Gierycz
Ricardo and Carry Chama
Peter,
hope you're doing well. I miss being in Brazil right now. It was one the most memorable experiences I had in a long time. Thanks for everything you've done for us. I'm finishing editing the videos. If you are interested in getting a copy, I'll send them to you when my cousin – who travels often to Rio – can get them to you.
Ricardo and Carry Chama
Deirdre Silver
New York, USA
Thanks so much for great trip. It felt like stepping back in time. So fascinating to see the cowboys work with the exotic cattle surrounded by wildlife and wide open spaces. Very interesting and different.
All the best,
Deirdre
John Rankin
Peter,
Just felt I ought to drop you a line & thank you for organising a wonderful trip for me. Nearly everything went off without a hitch & I thoroughly enjoyed myself.
The whale watching was fantastic with excellent outings both by sea & land. Lots of whales were seen, some very close & some very active jumping out of the water. The hotel was well situated on the beach (& on a couple of days there were even whales in the bay in front of us). All the staff were very friendly & welcoming. Just a shame it was low season & there weren't more other people there.
The day trip round Floripa was very interesting & Renata was a very informative guide. Unfortunately the Hotel Tamarindo was a bit of a disaster, no restaurant or bar so I had to go out for dinner & as there was nothing nearby the taxi fares cost more that the meal! (It was a superb Thai meal). The emergency breakfast was so dry & no drink provided with it meant I couldn't eat it. But this was a minor setback in the overall holiday.
The trip to N Pantanal was lovely. Marcus was a great guide, knowledgeable, hard worker, even had a sense of humour. The animals were a little shy, seeing tracks more often than the actual animals (& I missed the only cat sighted as I was having a lie in!). Again that is expected on a wildlife holiday & was more than made up for by the birds & mammals we did see, particularly the otters, a group of semi tame monkeys & a giant anteater. It was also great that Marcus & I went out spotting at night & saw a few more animals.
John Rankin