Description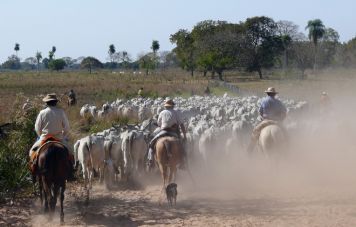 The gateway for our Pantanal Wildlife Photo Safari is Campo Grande, capital of Mato Grosso do Sul. From here we penetrate the inner Pantanal of the Nhecolândia savanna. We will be staying comfortably at a fazenda which is engaged with large scale cattle breeding activities. Because of environment protection consciousness wildlife here is abundant, though. The savanna offers sights of a great variety of mammals, reptiles and particulary birds. As a rare chance visitors will be able to watch the three biggest macaws in the area. Here, our clients will also have a unique opportunity to accompany two wildlife conservation projects for the tapir Tapirus terrestris and/or the giant armadillo Priodontes maximois.
Our guests particularly appreciate the comfortable rooms at the fazenda, the excellent cuisine und the "open bar", offering free drinks like the famous Brazilian caiprinhas, beers and fine wines from Chile and Argentina.
During the stay wildlife observations and photography is organized on the vast properties of the fazendas. Four-wheel-driven vehicles, as well as horses, are being used for locomotion. An overnight stay in the wilderness (sleeping in hammocks and/or tents) is also part of the activities.